The Next Wave of Innovation in Capital Markets Technology
Post financial crisis, most banks have been focusing on survival rather than innovation. That's changing, however, as more technology startups are entering the financial services scene.
After five years of stagnant growth and a constant struggle for IT budget, the number of startups looking to present the next wave of technological innovation in capital markets has exploded during the past 12 to 18 months.
There are many different types of vendors and services providers that represent the next generation of capital markets innovation. Some focus on offering unique datasets, while others are interested in new business or operational models. At the highest level, a lot of firms out there are focused on the following areas of innovation:
Data, data, and more data. With electronic trading infrastructure deemed fairly commoditized, an increasing number of firms are now attempting to differentiate through unique sets of nontraditional data. In essence, the market seems to be entering a new age of alpha generation driven by data rather than speed.
Social media. Closely tied to the ascendance of data, a lot of firms are leveraging social media, not only to analyze social media feeds, but also to create private communities that can interact to improve their overall products and services.
Big data and analytics. Big data has moved from buzzword to table stakes for startups attempting to marry varied data sources and sophisticated analytics to provide investment firms with usable information.
Living on a cloud. Most of these new vendors are looking at a minimum footprint at client sites and also seeking cost-effective ways of hosting and delivering their services, all via the cloud.
The innovative business model. Most of the startups in this report are still considering legitimate revenue models while offering viable free content to attract interest from the rest of the industry. More mature firms have implemented a pay-as-you-go, subscription-based business model delivered via the cloud.
Here is a sampling of a few of the newest innovators in financial services: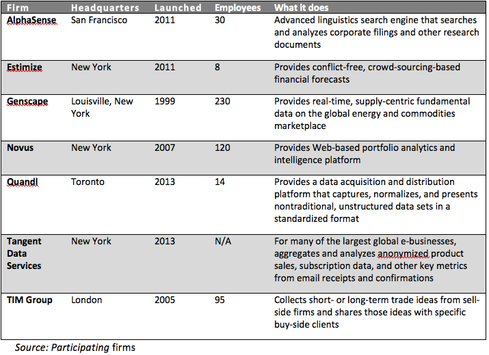 While a lot of excitement surrounds these market entrants, they face many challenges, and odds are still against most of the players' long-term success. Some of the more obvious challenges include the following:
Finding a revenue model. Most startups succeed in attracting market interest and traffic but fail to discover and implement a realistic revenue model to develop a legitimate business. Finding a viable revenue model is key to success in today's uncertain market environment.
Fueling copycats. There is always danger of unique ideas being copied by large, incumbent competition looking to take advantage of cash-strapped startups' market innovation.
Committing to growth. While 2014 appears to be the year for market participants to emerge from their short-term maintenance mode to invest in future growth, nothing is etched in stone. Lack of industry commitment to growth in the near future may doom the success of these smaller players.
Working through a weakened ecosystem. In the past, a host of large vendors and service providers provided a robust ecosystem that embraced startup innovation via funding or acquisition, but recent market stagnation has substantially weakened industry nurturing of smaller, innovative vendors.
Still, after years of stagnation, we are beginning to see recommitment by the industry to innovation, and I expect to see more competition to come as startups fight for the future of Wall Street 2.0.
Sang Lee is a co-founder and managing partner of Aite Group. His expertise lies in the securities and investments vertical, and he has advised many global financial institutions, software and hardware vendors, and professional services firms in sell-side and buy-side ... View Full Bio