Financial Service Employees Ranked 2nd-Riskiest Users of Cloud Services
Skyhigh Networks reports that financial services demonstrated some of the most risky behaviors among major industries.
The cloud access security company Skyhigh Networks released its fifth quarterly Cloud Adoption and Risk Report (registration required) and found that the financial services industry is the second-riskiest vertical based on employee behavior.
The findings are based on the average number of malware incidents and data exfiltration events collected over the last quarter from more than 10.5 million enterprise employees across major industry verticals.
Though enterprises have begun adopting cloud applications to expand their business, employees are bringing many of their own apps into the workplace and on to corporate devices. In 2014, the average number of cloud services used by an enterprise came in at 738, 10 times more than what IT typically expects from its employees.
Employees put many kinds of sensitive information into cloud applications that their corporate IT does not support, like Sharefile and Dropbox. And something as simple as logging into Evernote or a photo-sharing app with the same password as the one used for a corporate account can offer an easy avenue for hackers.
Skyhigh considers cloud applications high-risk when they lack security features like multi-factor authentication and encryption and have grey areas in the user agreements around the rights to use data uploaded to the program. These applications may also have "a discouraging known-compromise history" and permit risky behaviors, such as anonymous use. According to the report, the average company uploaded 86.5 GB to a high-risk service.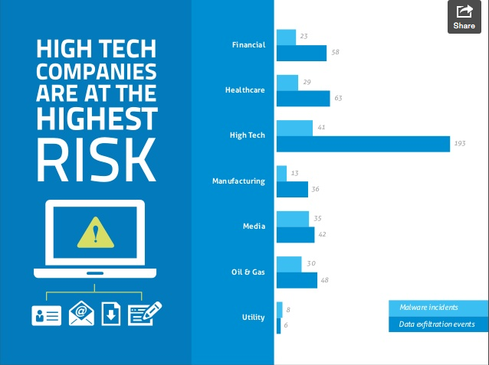 High-tech was the riskiest vertical for malware and data leaks by a large margin, well ahead of all other industries. This makes some sense, since these companies tend to be early adopters and "have permissive policies regarding the use of cloud services."
Financial services came in second, just ahead of healthcare. Given the regulatory requirements both these industries face, and the amount of money spent on building appropriate infrastructure, these rankings should really be an eye opener for management.
"Employees in financial services are no different than employees anywhere," Rajiv Gupta, CEO and co-founder of Skyhigh Networks, told us. "We all want to get our jobs done in an efficient way. We choose highly usable, flexible, scalable services in our personal lives, and we want to use the same things in our professional lives."
The report raises an alarm because regulated companies are pretty flush with resources to build an infrastructure that maintains risk, he said, but at the end of the day, these verticals find they are not that much better in terms of risk.
Other findings
Skyhigh ranked the top 20 enterprise and consumer cloud services. Topping the enterprise list, perhaps unsurprisingly, are Amazon Web Services, Office 365, Salesforce, Cisco Webex, Box, Yammer, ServiceNow, SuccessFactors, Adobe Exchange, and LivePerson.
The list of consumer cloud services used in the workplace is also composed of familiar names. Topping the list are Facebook, Twitter, Apple iCloud, YouTube, LinkedIn, Dropbox, Gmail, Google Docs, Pinterest, and Instagram.
"There are legitimate reasons employees are using consumer apps in the enterprise at work -- for example, a social media manner posting on the company's Facebook page," the report said. "However, consumer apps can present real risks to enterprises. Data loss in consumer apps can occur due to malware or insider threat."
Becca Lipman is Senior Editor for Wall Street & Technology. She writes in-depth news articles with a focus on big data and compliance in the capital markets. She regularly meets with information technology leaders and innovators and writes about cloud computing, datacenters, ... View Full Bio