Rethinking the Asset Management Middle Office
Streamlining the middle office means more than just reducing headcount. To prepare for growth, asset managers need to transform the entire organization.
Both during and following the global financial crisis, many asset managers have scrambled to protect their margins in response to increased operating complexities and other competitive pressures. Many have focused on reducing the costs associated with their middle-office functions, but in reality most have implemented only simplistic, one-dimensional cost reductions aimed at "low-hanging FTE fruit."
Somewhat predictably, such efforts have brought about a number of unwelcome issues, such as increased operational risk, inability to meet increasing regulatory requirements, platform and infrastructure inflexibility, and lack of process scalability, to name just a few. And to make matters worse, these issues are being encountered at a moment of significant product re-engineering and growth opportunity for the asset management sector.
Unfortunately, simple, marginal headcount reductions are a poor substitute for sustainable transformation of the middle office. By failing to transform the middle office effectively, asset managers are likely to face lagging margins, growth and scalability issues, and operating concerns. All these issues translate to significant growth opportunities left on the table. Conversely, asset managers that have succeeded in more fundamentally restructuring their middle offices -- many via sourcing strategies -- are now experiencing sustained growth and margin benefits.
The middle office is generally defined as the functions that serve as go betweens for front-office research, portfolio management, and trading and subsequent back-office administration. Though each asset manager may have unique investment processes and product offerings, the middle-office functions typically include:
Trade routing and processing
Trade matching and settlement
Over-the-counter processing
Investment accounting (ex-books and records)
Performance measurement and attribution
Pricing/valuation
Corporate actions processing
Collateral management
Data management
Proxy voting support
Investment risk reporting
Leading asset managers are critically evaluating these and other functions with the intent of moving from a transaction processor model to a strategic business partner model. Often this is accomplished through "right-sourcing." One approach for this analysis involves assessing both the organization and its middle-office functions through three lenses:
Organizational readiness
Operating model
Cost and performance
Once the functions are assessed, the asset manager then determines the best model (possibly a "right-sourced" one, where applicable) and works to implement and sustain this model. Below is an illustrative, six-step decision model for middle-office re-engineering.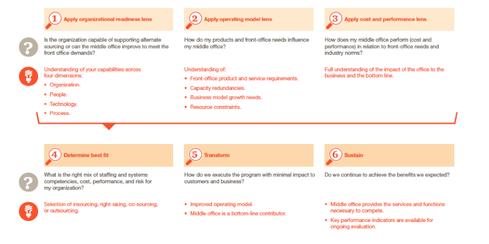 Typically, steps 1-3 bring the organization to the point where it truly understands its strengths, weaknesses, ability to affect change, desired functional scope, operating model options, and true cost of services rendered. Industry experience suggests that these initial steps are often challenged by organizational politics, lack of usable data for reviewing in-scope functions, and a dearth of dedicated leadership with the skills and capacity to lead the change.
Steps 4-5 involve selecting the best fit model, developing the suite of initiatives to deliver/implement it, and identifying the persistent governance and other cost and performance management disciplines (e.g. service level, controls, and cost reporting) required to make the benefits sustainable. Because these steps take the organization from analysis fully into execution, issues such as interim operating risk management, institutional knowledge retention, transitional staff capacity, and adoption of new roles and responsibilities for retained (or otherwise reorganized) middle-office staff often come to the forefront.
Though the benefits are clear and compelling, the challenges described require thoughtful planning, navigation, and management. In the end, asset managers that re-engineer or right-source the middle office can create a powerful support model that contributes to a competitive advantage.
Jay Burstell is a Managing Director in PwC's Asset and Wealth Management Advisory practice. Based in New York, he has more than 25 years of financial services experience as a C-suite executive and management consultant. Jay advises the firm's top clients across traditional, ... View Full Bio